Butter Rich Face & Body Bar (Vegan & Non Vegan, GF)
Regular price
Sale price
$7.50 USD
Unit price
per
Sale
Sold out
Vegan (except where indicated), gluten free (except the beer bars, those contain gluten), handmade cold process soap in your choice of scents. Very creamy and luxurious soap with a rich lather due to high Shea Butter content.

Each hand cut bar weighs a minimum of 4oz.
Scents are rotated based on the season. For example, cranberry, spice, and pumpkin scents are available in the Fall and Winter. Fruity and floral scents are generally available in the Spring and Summer.

Basic Ingredients: Coconut Oil, Shea Butter, Olive and/or Rice Bran Oil, Water, Sodium Hydroxide, Castor Oil, Sodium Lactate, Natural Essential Oils and/or Fragrance; May contain: Mica, Titanium Dioxide, Iron Oxide, Tin Oxide, Cosmetic Dye, or Ultramarines. 

May also contain (based on scent and availability of ingredients): Beef Tallow, Sustainable Palm Oil, Goat's Milk, Cow's Milk, Heavy Cream, Coconut Milk, Yogurt, Beer, Aloe Vera, Honey, Beeswax, Salt, Clay, Silk, Pumice, Cinnamon, Strawberry Seeds, Poppy Seeds, Annatto Seed Powder, Turmeric Powder, Vanilla Bean Powder, Luffa, Organic Fair Trade Sugar, Oatmeal, Activated Charcoal, Walnut Shell Powder, Apricot Kernel Powder, Rosehip Seed Powder. These will be indicated on each bar.

Proudly handcrafted in Las Vegas, NV USA.
Materials

We use only the finest, most pure ingredients to handcraft our products. Ingredients are listed for each product so that you know what's in everything we make. We want you to feel comfortable with every purchase from us!
Product and Allergy Information

Any statements have not been evaluated by the Food and Drug Administration. Our products are not intended to diagnose, treat, cure, or prevent any disease.

We use essential oils in our products. If you are pregnant, nursing, or being treated by a doctor, please consult your healthcare professional.
If you are interested in a product, but have an allergy to an ingredient, please contact us to discuss your specific allergy. It may be possible to formulate the product to meet your individual requirements.
Shipping

Orders will ship within 1 - 3 business days of being placed unless otherwise specified. We ship USPS Priority Mail so that we can provide buyers with tracking numbers.
Share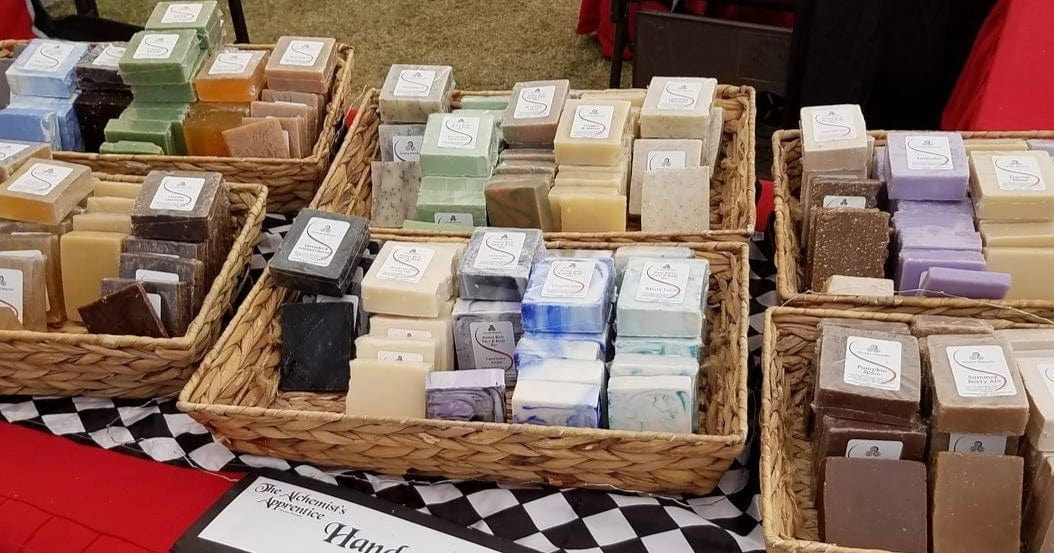 Repeat customer for a reason
I've loved the different scents I've gotten from arcana each time I've bought. I'm never disappointed. Even when they had personal stuff to deal with, they've reached out to me super fast. I'll definitely order again and again.
Stellar!
I really love Arcana Naturals. I keep trying different fragrances, and they all are wonderful beyond expectations. Prices are great and delivery is prompt. I'll never buy from the store again. AND I'm so proud of the products that I send them to friends and family. Thx for being #1!!!
I'm happy to write a positive review for the Butter Rich Face & Body Bar!
I recently purchased this product and have been using it for a few weeks now. I must say, I am thoroughly impressed with its quality and effectiveness.
Firstly, the scent of this bar is amazing! It has a natural, earthy fragrance that is not overpowering but lingers nicely on the skin. The texture is rich and creamy, which makes it easy to lather and spread on the skin.
One of the things I love about this product is how moisturizing it is. After using it, my skin feels soft, supple, and hydrated. I have very dry skin, and this bar has done wonders in keeping it moisturized and nourished.
What's also great is that it can be used on both the face and body, so it's a great all-in-one product that simplifies my skincare routine.
Overall, I highly recommend the Butter Rich Face & Body Bar. It's a high-quality, effective product that's gentle on the skin and delivers great results.
The best quality I have ever used.
The body bar soap is wonderful. Leaves my skin feeling so soft and healthy.
Luscious
First time trying this product! Peace of mind knowing natural products. Love the scents. Gotta give this a try.
Free Shipping

Free shipping on orders over $75.00.

Returns & Exchanges

Please review our Returns & Exchanges Policy. We do not accept returns or exchanges on personal care items.

Returns & Exchanges Policy